500 shiplap series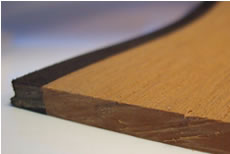 E-Series 1/4", 1.3lb per sq. foot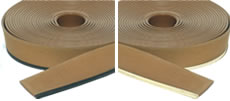 E-Series 2" width available
solid, black or white available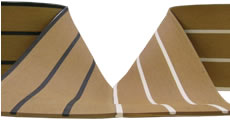 E-Series 6" width available
Solid, Black, or White stripes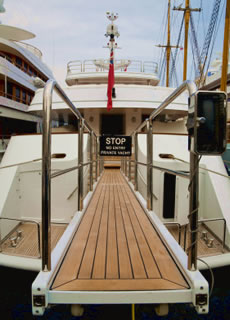 products
Design A Deck continues to bring quality products to our customers.
Here are some of our new product lines:
Azure Series
Provides the ability to see the deck after dark. New cutting-edge phosphorescent technology is incorporated into the caulk lines in the material. After it is charged by normal daylight, the lines glow a soft azure blue from dusk to dawn. This brings a new level of comfort, security and safety after dark. This environmentally-friendly natural light doesn't depend on batteries or wires. Wherever the decking is installed – be it platform, step or cockpit – the boundaries of safe passage are clearly marked. This product is patent pending.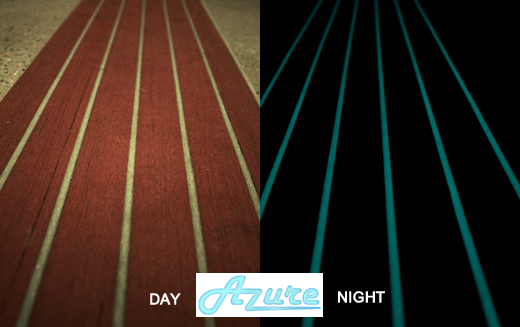 CoolTEAK


The only synthetic decking that's designed to stay 25 F to 30 F cooler than all other PVC decking material. CoolTEAK will not feel hot on bare feet, even in full sun. CoolTEAK has the elegant appearance of traditional maple planking with teak colored caulk lines.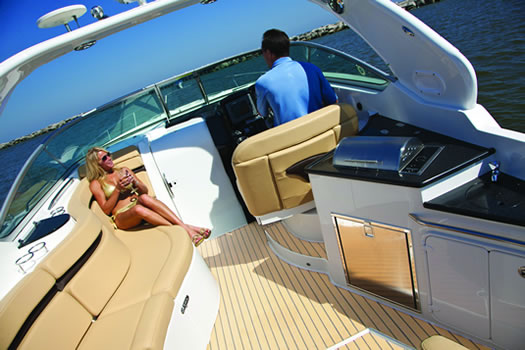 Both Azure and CoolTEAK are made of PlasDECK's patented flexible PVC, which contains only the best ingredients. PlasDECK always uses the highest UV protection to protect against fading, antifungal inhibitors which ensure that mold and mildew will wash right off without staining the deck, and non –migrating plasticizers which stop the movement and evaporation of oils in the plastic. That means that the PlasDECK won't dry out, crack, or process is unique to PlasDECK decking material and can't be found in other synthetic decking products on the market. PlasDECK is also the only synthetic teak decking that's made in the USA, and the only product with the option of Peel & Stick pressure sensitive adhesion.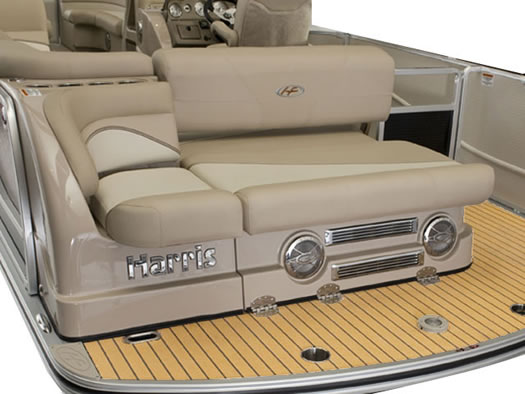 SeaDek
Non-skid, closed cell EVA foam products, UV protected, non-absorbent, peel and stick applications. The product is used for bolsters, swim platforms, decking, mats, step kits, and helm station pads. SeaDek has a wide selection of colors. Pre cut kits are available for many boats; any design or pattern can be made.
DECKadence Marine Flooring
Developed for the marine industry, DECKadence is a unique combination of PVC, resin and aerated rubber. DECKadence offers beauty and comfort on your back, knees and feet. The product is easy to install, no adhesives, no mess, no hassles. DECKadence comes in a wide range of colors, excellent for exterior uses from ski boats to sport fishers. Custom mats available with logos.
Teak and Holly
Our tough, durable, stain free and easy to maintain Teak & Holly sheet vinyl comes in several colors and combinations. Teak and Holly is excellent for interior salons, galleys, hallways and bathrooms.
Simulated hardwood floor
Our vinyl wood grain floor products look like real hardwood floors, and can be cut in different widths. This product is so tough it is used on cruise ships, yachts, casinos, offices and hotels. The elegant style is as beautiful as real wood, and is easy to maintain. The product comes in planks and tiles. This product is another excellent interior flooring product.
Carpet
When it comes to carpet, we offer interior and exterior marine grade carpet with rubber backing. We offer an exterior Teak & Holly carpet pattern that is a specialty all its own. We offer a full selection of carpets, custom rugs and binding.
If you want flash, colors and detailed designs, we can provide you with the finest quality carpet and workmanship.
LLebroc Helm Chairs
We proudly offer our customers LLebroc helm chairs, made of the finest steel, aluminum or stainless steel. For the price, you cannot match the quality of LLebroc chairs. LLebroc offers a full line of chairs, with an excellent selection of styles and designs. LLbroc uses Morbern and Allante Vinyl Upholstery, some of the finest marine vinyls in the industry.
PlasDECK
The future of decking is here! PlasDECK is the next generation of synthetic teak boat decking, made from flexible PVC that's long-lasting, tough and resilient…and we've taken the base material and improved it from the inside out.
Using a proprietary process, we've made PlasDECK:
Adhere better to surfaces

Resist stains better

Easier to clean

More resilient
Anti-fungal

With the same non-skid properties whether wet or dry

Comfortable to walk on

Able to reduce sound and noise

Elegant in style

Richer and warmer in appearance
PlasDECK, made with the highest UV protections (automotive grade), is manufactured in the Polymer Capitol of the World, Akron, Ohio.
A lot was learned over the years while working with first-generation materials, so PlasDECK has virtually eliminated all the previous problems. Scientists went all the way down to the molecular level to engineer a product that is superior to anything else available. You will find PlasDECK as a factory option by premier brands that have conducted their own independent testing and evaluation.
Durability
PlasDECK incorporates automotive-grade UV inhibitors…the best money can buy. The use of a unique proprietary process ensures that the material won't crack, crumble or dry out over time. Longevity is the number one concern for exterior decking and because we use the best ingredients, you can rest assured that your PlasDECK will look beautiful for a long, long time without changing color.
Bleach
Unlike other synthetic decking systems, PlasDECK is unaffected by bleach. Since it won't fade PlasDECK, bleach can be used onboard without fear of discoloration.
Aesthetics
PlasDECK simply looks more like real teak decking than any other product on the market. The color is closer and the graining is more accurate. Using subtle streaking agents during production results in a material that looks more like real wood; other synthetic decking can appear too uniform, making it look more like plastic.

Better Adhesion
Testing proved that having a embossed surface on the underside of PlasDECK offers better adhesion while using less adhesive than grooved designs. Earlier products are more prone to premature release, as it's difficult to ensure all the areas of a grooved design are filled evenly with glue. This can create voids that trap air and moisture under the material and cause bubbles during expansion in warm weather.

PlasDECK is also the only decking system available with a Peel-n-Stick pressure-sensitive adhesive. Perfect for smooth areas, this pre-applied adhesive will ensure a superior bond while promoting the enhanced speed of installation desired in a manufacturing environment.
Ask for information and samples on all our product lines.
Call us at 619 297-2280 to set up an appointment